Http://community.tvguide.com
reported that the cast for upcoming film Harry Potter, Half-Blood Prince featuring HBC is complete.
Casting is complete on the next Harry Potter film to go into production. In addition to Dan the Man, Rupe and the Emster, gr'ups Helena Bonham Carter, David Bradley, Robbie Coltrane, Warwick Davis, Tom Felton, Michael Gambon, Alan Rickman, Maggie Smith, Natalia Tena, Julie Walters, David Thewlis, Evanna Lynch, Matthew Lewis and Bonnie Wright will all be back.

Coming on board for Half-Blood Prince are Jim Broadbent (as Potions Professor Horace Slughorn) and Helen McCrory as (Narcissa Malfoy). New rugrats include Jessie Cave (as Ron's honey, Lavender Brown), 9-year-old Hero Fiennes Tiffin as young Tom Riddle and Frank Dillane as the teen version.
And from
http://www.411mania.com
, more Alice and Frankenwenie news:
Burton Bringing Alice and Frankenweenie to the 3D Screen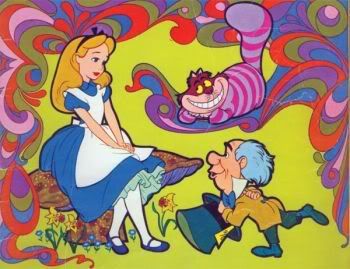 Tim Burton is pairing up with Disney to direct two 3-D films, Alice in Wonderland and Frankenweenie.

Variety says the two-movie deal with Walt Disney Studios begins with Alice in Wonderland, which will combine performance-capture imagery, currently seen in Beowulf, with live-action footage.

The script by Linda Woolverton (The Lion King, Beauty and the Beast) is based on the Lewis Carroll classic.

Burton, who is wrapping Sweeney Todd at Paramount and DreamWorks, will tackle Alice in Wonderland early next year, with production set to wrap by May.

After "Alice," Burton will helm and produce Frankenweenie, based on his 1984 short film about a pet dog brought back to life by his loyal owner. The movie will be shot in stop-motion animation and shown in digital 3-D.

While Tim Burton is definitely a twisted, strange, disturbed individual, you can't deny he's got directorial skills. That said, any remake of Alice in Wonderland will draw comparison to the original, which could hurt its critical success. Now Frankenweenie, on the other hand, does not have the background of Alice nor the general story appeal on hearing the brief description. It kind of sounds like his last stop-motion film, Corpse Bride. That said, Burton has a certain magic that can turn things into gold, so here's hoping he works his magic again.