It's been confirmed, Johnny may indeed film 'Public Enemies' in Wisconsin. Here's the story from
www.fldreporter.com
Lieutenant governor confirms movie starring Johnny Depp may film in Wisconsin
Filmgoers could soon see a lot of Wisconsin at the cinema
The Associated Press
MILWAUKEE — Tax breaks for film production are already paying off and they haven't even started: The makers of a big-budget Johnny Depp film are looking at locations in Wisconsin.


The incentives, touted as some of the best in the nation, go into effect Tuesday.

"This is now a very attractive place," said Lt. Gov. Barbara Lawton, who is in negotiations with NBC Universal. "We hope this will be the one that we will be able to claim as the way we open the doors in Wisconsin to the industry."

Lawton said the movie is "Public Enemies." According to movie web site IMDb.com, Depp will be notorious gangster John Dillinger and will be directed by Michael Mann, who has already visited the state.

Read the rest of the article at the link. If you want to learn more about the movie plot, go to http://imdb.com
It is said to be realesed in 2009. Directed by Michael Mann, so far Johnny is the only name posted with it on the site.

Sweeney grosses pass $25 million. Here's the link:
www.theatermania.com
And Tim Burton's Hansel and Gretel?
www.slashfilm.com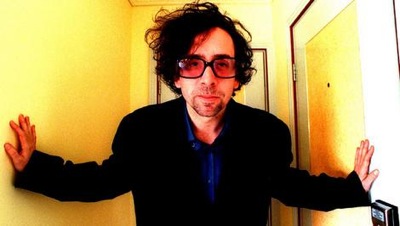 Before BeetleJuice, Batman, Pee Wee Herman's Big Adventure, and Sweeney Todd, Tim Burton directed a modern gothic violent retelling of Hansel and Gretel. Never heard of it before? I assure you, It exists. Although very little evidence can be found. And if you haven't seen it, you likely never will.
Filmed for $116,000 on 16mm, this live-action short film featured a cast of amateur Japanese actors, kung fu fights and Japanese toys, as Burton was obsessed with Japanese culture at the time of production. The film's design style and color schemes paid homage to the Godzilla movies and is said to be heavy on special effects, making use of front projection, forced perspective and even some stop-motion animation. Most reputable sources claim the film runs a full 45 minutes, but other fan reviews have a listed runtime anywhere from a 15-30 minutes. The plot of the film is very traditional: Hansel and Gretel must escape a witch and her gingerbread house to find their father.
Tim Butron's Hansel and Gretel aired on the Disney Channel on Halloween night in 1982, and was never seen or heard from again. This gem is near impossible to find. Search Google, Ebay, YouTube, Torrent Sites, you won't find anything. Tim Burton is said to have been embarrassed of this early work, which might explain why the short has never been released on home video or DVD.
I haven't even seen this film, nor have I met anyone who has personally seen it. It's become somewhat of an urban legend around Hollywood. Accounts of this short vary from person to person, and from source to source, so the above description might feature inaccuracies.
Danny Elfman's 'The Kingdom' score was rated #10 on the top 10 scores of the year by
www.ropeofsilicon.com.
The Kingdom
Danny Elfman is traditionally known for his bombastic big scores for films like
Spider-Man
and the films he has done for Tim Burton. However, with
The Kingdom
's score he went for something that didn't sound at all like an Elfman score and I actually loved it. If you are looking for specific tracks to check out peruse "The Kingdom - Titles" and "Finale"
And an interview with Jayne Wisener, who played Johanna in Sweeney from
www.eventguide.ie
Visions of Johanna

It's her first ever movie. And it's with Johnny Depp. Paul Byrne talks to Janye Wisener, the 20-year old Coleraine star of 'Sweeney Todd'.

It was just another local production of 'West Side Story' for Coleraine teenager Jayne Wisener last summer at the Millennium Forum in Derry. And then she got word afterwards that a casting agent wanted to meet with her the following day.
And the reason Jeremey James Taylor wanted to meet with her was because he was casting the part of Johanna in Tim Burton's adaptation of the Sondheim musical, 'Sweeney Todd: The Demon Barber Of Fleet Street'. And playing Sweeney himself, Johanna's dad? Johnny Depp.

True, Jayne wasn't the only girl Jeremy wanted to see that day, but this young actress, who dreamt of making movies ever since she was 10 years old, was determined to make an impression.
And so she dolled herself up, put on her best English accent, along with her coolest clothes, and her most expensive make-up.
Bad move. The call came through later on that the 19-year old Jayne looked too old to play a 16-year old. "When they rang and told me I was too old, I had to plead with them that I look really, really young without any make-up," says Wisener. "Because I do – I have a child's face. My fourteen-year old cousin, the day after my aunt's wedding, took photographs of me without any make-up, and I emailed them over."

Which isn't like the shy and retiring Jayne Wisener, at all. But this was Johnny Depp. And Tim Burton. And Alan Rickman. And Helena Bonham Carter. And Timothy Spall.

'Sweeney Todd' has just been nominated for four Golden Globes, and rightly so. It's Burton and Depp's best film together since 'Edward Scissorhands'. Has it turned your world upside down yet?

Well, it's turned my mum's world upside down, that's for sure. She keeps bringing home local papers with stories about my being in 'Sweeney Todd', and it's quite embarrassing really. Phoning my aunt in America, posting over copies, telling everyone and anyone who'll listen all about it. We just got back from the New York premiere, where the two of us had a blast, and now, that's the big news story for the area.

You seem like a classic Burton heroine – did it take you long to go from local theatre productions to feeling at home on a major film set like this?

Initially, it does feel like you're the guest at a dinner party that doesn't know anyone, and I was so, so nervous that first day. The night before, I tried everything to calm myself down – took a sauna, hit the hot tub – but I was still shaking when I was going to bed. It wasn't until the next morning, when Tim Burton came to my dressing room in the morning, and said, "I know this is your first time, but you're going to be fine". And then, at that point, I realised, if I do something crap, he'll just say, "Jayne, don't do that – do it like this", because he's a fantastic director. There's no need to be nervous when you're in the hands of a director who's so clever.

Alan Rickman plays your gruff guardian who's got far-from-good-intentions for his charge, and apparently he was quite aloof to you on the set. Clever acting, or pompous git?

Oh, I thought it was very clever, what he did. I was terrified of him in real-life, so, I didn't have to act too much. He's a genius, and if it works for him, that's fine with me, because at the end of the day, he's made some fantastic films, and done some incredible work.

You're great aunt Heather was the first to encourage the shy, young Jayne to try acting, right?

Yeah, she was my speech and drama teacher, and I wasn't very good. I was very shy. And then, there was one in the festival, when I won a cup, I just thought, actually, I am quite good at this. As I won more, I think I just got bitten by the bug. My aunt didn't think I would do it as a career, and she just thought I was living in cloud cuckoo land – as we tend do up here in northern Ireland – and she was pretty much asking me, 'Well, what do you want to do for your real job then?'. I was always very determined, and my parents were always very encouraging. Once I got to seventeen, I wanted to go to drama school, as soon as my A-levels were finished. And my parents were brilliant. 'Well, that's what you want to do, so we'll support you'.

The fact that you're in this rather large movie, it must help you get your foot in the door now.

Yeah, and it got me an agent, which is fantastic. And he's been wonderful. He's a fantastic agent, and it's easier now when I go into an audition, because when they ask you about what you've done, mentioning 'Sweeney Todd' is a real icebreaker. There's something to actually talk about. 'Eh, I've been to drama school, and then I did nothing.'

Was acting a way of dealing with your shyness? A caterpillar offstage, a butterfly onstage?

Yeah, I was definitely a very shy person, and people would have thought I was very odd, or a snob, but that was the complete opposite to how I felt. It was because I was very shy. And then, suddenly, I'd be up on stage, singing songs, and acting, and people couldn't believe it, but I wasn't being me there, I was being that character. It's much easier when you're given the lines. I'm much better now though – I've come out of my shell something serious now.

What about the fan side of this – already on imdb, there are threads about 'How cute' you are. Curious, or do you avoid such things?

I don't think it would be a good idea for me to look at those things, I really don't. Because they don't know who I am really, and I don't want to lead myself to believe that I'm cute, or whatever they call me, as you just enter into a dumb pact that will upset you deeply when someone posts something negative. Best to avoid it altogether.

I saw there's a fansite registered in your name too. Are you involved with that?

No, I'm not. One of my sister's friends bought the name for the website, that's what I heard. Nothing to do with me. I think it's silly, you know. I could understand if one of my parents set up a website, and posted lots of silly photos of me as a child, but not someone who doesn't know me. I just think that's odd. I certainly won't look at it, because I'd be embarrassed.

Johnny managed to shake off that pretty boy tag early on to become a great character actor. Is that the kind of career you'd like? You did represent Antrim in the Rose of Tralee in 2005, so you're officially attractive.

I couldn't answer that, to be honest, because I don't really know what sort of career I'm going to have. I could say, this is what's going to happen, and ten years later, I'm in a totally different place. I'll just have to work with what opportunities I'm given, until that fine day when I can pick and choose.

What was it like, meeting Mr. Depp, one of your idols?

The first day I met him was quite late on, and I built myself up for it so much, because, obviously, I've been in love with him my whole life. Haven't we all? The day I saw him for the first time though, I was dressed as a boy. I didn't even have a nice dress, or anything like that. I was literally hiding from the guy, and then Coleen Atwood, the dress designer, brought me over to Johnny, and said, 'You haven't met Jayne yet, she plays your daughter'. And he said, 'Hi, I'm Johnny, it's lovely to meet you'. And I said something that wasn't actually English.