Rumor has it that Johnny Depp might buy Seattles' 'The Croc'. More from
http://seattlest.com
Rumormonger Says Johnny Depp's Buying the Croc
Someone named Shilo Urban at Seattle-based CultureMob claimed yesterday that:
It's going around the streets of Seattle like wildfire that Johnny Depp is going to buy the old Crocodile Cafe and make it much, much cooler (and hotter) than it ever was before.
Apparently Seattlest isn't in touch with "the streets," cuz we haven't heard a thing.
Or maybe we're just not hanging with the right drunks.
This is from several unreliable sources, some of whom were at least partially inebriated at the time of bean-spillage. It's a juicy one though, and Seattle would LOVE it to be true, am I right?
Or maybe because someone named Shilo Urban thought name-dropping Mr. Scissorhands would drive traffic to the Mob site.
If our amazing powers of cynicism are accurate, Johnny Depp's interest in the former Crocodile Café starts and ends with shameless self-promotion.
Yeah, it'd be swell if Depp were down with Seattle club ownership. It'd be swell to see the Croc open again. But it'd also be swell if it hit 80 dry-sky degrees this weekend.
X

A fan paid £45,000 to be an extra in Public Enemies; the whole story from http://www.digitalspy.co.uk/
Depp fan pays £45,000 for movie role
Friday, May 9 2008, 10:49 BST
By Beth Hilton, Entertainment Reporter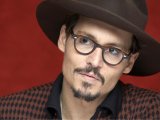 Rex Features
A Johnny Depp fan has paid £45,000 to appear with the actor in his new movie
Public Enemies
.
The unnamed bidder won an auction for a non-speaking role in the film, which revolves around the FBI's attempts to catch bank robber John Dillinger (Depp).
The fan will spend a day on set in the Chicago area later this month.
Cash from the
charitybuzz.com
auction will be donated to the Robert F. Kennedy Memorial, a human rights organisation.
Charitybuzz.com
CEO Coppy Holzman said: "We are thrilled to have been able to raise so much money for Robert's wife Ethel Kennedy and The RFK Memorial."
The auction, which runs until May 14, also includes a tour of the
Desperate Housewives
set and the chance to meet Will Smith at the premiere of his new film
Hancock
.
X
Harry Potter Goodies From
The Leaky Cauldron.org and
SnitchSeeker.com

New High Res Photos from "Order of the Phoenix"
New Order of the Phoenix behind-the-scenes promos
X
Johnny Depp's half brother, Daniel, is going to publish a novel.
From
http://www.iht.com/

LONDON: A British literary agency says actor Johnny Depp's half brother Daniel will publish his first novel.
"Loser's Town" follows a private detective called in when a Hollywood star begins receiving death threats.
MBA Literary Agents Ltd. said Friday that Daniel Depp struck a deal with Simon and Schuster to publish the book in the United States and Britain early next year. Canadian rights have been acquired by Penguin and French rights have been sold to Presses de la Cite.
Depp is a scriptwriter and producer. He splits his time between France and California.